The 2018 Program
(The 2019 Program to be announced soon)
Student Work Exhibit from 2018
Meeting Room 1:
An exciting new addition to Fine Woodworking Live 2018 is a gallery of student work from two premier woodworking schools in the Northeast—the Center for Furniture Craftsmanship in Rockport, Maine, and North Bennet Street School in Boston. Both schools are committed to providing the best education possible for people who want to learn how to build and design furniture to exacting standards.
A Practical Guide to Wood Movement
Presenter: Chris Becksvoort 
If you want the furniture you build to last, you'll need a practical knowledge of how wood reacts on a cellular level. Chris Becksvoort, who has been putting together rock-solid furniture for more than 40 years, will discuss wood movement and its applications for furniture construction, including how to attach tabletops, cauls, and braces. With the aid of a teaching cabinet, Becksvoort also will demonstrate case construction, including proper grain orientation, bottoms, web frames, back options, doors, moldings, stops, and drawers.

Creative Embellishments
Presenter Tim Coleman 
Tim Coleman's masterful furniture is often embellished with patterns and textures using a variety of simple techniques. Learn to create lively details and add flair to surfaces and borders using low relief carving, marquetry, thick veneer tiles, fretsawing and embossing with custom steel stamps. Through an exploration of texture and pattern inspiration and a demonstration of decorative techniques, you will learn a versatile set of skills to enhance your furniture.

Bowl Carving
Presenter: Dave Fisher 
Join Dave Fisher along the journey from log to bowl, where he will demonstrate the power and finesse of the ax, adze, and other edge tools. The versatility of these timeless tools and techniques will be discussed, including elements of design, layout, shaping, and texture that can be employed in projects beyond bowls.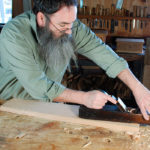 Morning Session Talk—The Green Woodworking Renaissance
Presenter: Peter Follansbee 
Peter Follansbee will present his views and insights on the burgeoning green woodworking movement, starting in the late 1970s when his teachers Drew Langsner, Jennie Alexander, and others helped introduce a whole new generation to the timeless way of working wood riven from green logs. Chairmaking, timber-framing, basketry, cooperage, carved and/or turned woodenware, joined furniture, and more feature in the story of this great revival of a nearly-forgotten way of approaching woodworking. Looking at the American craftsmen and women who re-introduced these methods, as well as the European antecedents of these crafts, we'll trace the story from its new beginnings to its current internet-sourced renaissance.
Spoon Carving Workshop
Presenter: Peter Follansbee
(Friday Hands-On Workshop – SOLD OUT)
With fresh green wood, a hatchet, and a couple of knives you can fashion attractive and efficient woodenware that's a delight to make and a pleasure to use. In this workshop, you'll explore the engrossing craft of carving wooden spoons. Good spoon design starts all the way back in the tree, and the hatchet helps coax them out. To maximize time for students' hands-on knife carving, Follansbee will demonstrate the hatchet work and distribute roughed-out blanks for students to carve into spoons. Students will concentrate their efforts on the various knife grasps that are the hallmarks of this Swedish style of carving. They will use a straight-bladed sloyd knife and a curved hook, or spoon, knife to carve their spoons. Emphasis will be on streamlined shapes that give strength combined with sleek design. The popularity of spoon carving is growing like mad, and you'll find out why. Once you start, you'll never stop … nor will you ever look at firewood the same way.
8 Steps to Better Design: The Design Process Demystified
Presenter: Michael Fortune 
Where do ideas come from? How do I develop my own designs? This demonstration is for woodworkers who want to move beyond working from plans or copying existing designs. Michael Fortune will illustrate a series of design exercises that will help you generate and explore new ideas, forms, and details and then incorporate them in your furniture. Scissors, a glue gun, tracing paper, and—most important—a willingness to look past what you already know are the designer's tools. Learn an eight-step design process that will make you creative, even if you think you can't be. It's an engaging process, one that can produce wonderful new pieces or help you resolve an existing design.
Turning for Furniture Makers
Keynote: A Chairmaker's Journey
Presenter: Peter Galbert 
Turned parts can add great interest to furniture, but turning is a distinct skill set from most other forms of woodworking. Often, furniture makers only work at the lathe in moments of need, with precious materials on the line and the clock ticking. This can lead to frustration and to adopting poor techniques that are limiting and inefficient. With the right approach and a bit of practice, turning can become an enjoyable and rapid means for making furniture. This class will offer insights into turning concepts and techniques and will present a regimen for practice that will enable makers to incorporate turning as a productive part of their workshop routine.
Handplanes for Joinery
Presenter: Chris Gochnour 
Whether you enjoy working exclusively by hand, or prefer to use machinery, joinery planes bring a tremendous asset to the quality and precision of your work. This seminar will survey two categories of joinery planes: those for cutting joints and those for tuning and fitting joints. Planes for cutting joints include dado, tongue and groove (match), plow, combination, rabbet, and dovetail. Planes for tuning and fitting include shoulder, rabbet block, skew block, miter, router, and side rabbet. Chris Gochnour will discuss sharpening, tuning, and setup. He'll demonstrate how to make and fit a large range of woodworking joints, including rabbet, stopped rabbet, dado, tongue and groove, tenon, tapered sliding dovetail, and miter joints. Attendees will leave with an improved understanding of what joinery planes are, their range of capabilities, and how using them will help them produce precise and accurate joinery by hand.
Restoring a Handplane
Presenter: Roland Johnson 
You don't have to break the bank to put together a collection of high-quality handplanes. Stanley Bailey planes have been serving craftsmen for more than 150 years, and a well-tuned Stanley Bailey will provide results that are on par with modern versions. In this seminar you will learn about the history of these venerable planes, which vintage planes are best, how to identify them, and how to avoid the pitfalls of buying used tools. A step-by-step rebuild of a vintage Stanley plane will show you how to create a wonderful workshop companion from a budget-priced antique.
Contemporary Inlay
Presenter: Steve Latta 
Inlay is most often associated with traditional work, but in this demonstration Steve Latta will shatter that stereotype using techniques that simply were not possible in the past.  By combining easily made patterns with both modern and historic tooling, he comes up with a wide range of designs that are limited only by the imagination. Floral patterns, animal forms, geometric patterns, or random designs are a few of the applications that this class will look at, as well as inlaid borders made with a pattern. Latta will start with the basic materials and techniques and then see where imagination takes the group.
Sunburst Veneer with Hide Glue
Presenter: Steve Latta 
The use of hide glue and hammer veneering goes back thousands of years. The walls of ancient Egyptian tombs portray craftsmen sawing veneers, mixing glue in a pot, and laying down those veneers with a hammer technique that is just as effective today as it was back then. This ancient technique has fallen out of favor, but it still offers a no-nonsense, streamlined approach to veneering that allows for complex patterns and quick repairs or "do-over's" as the need arises. We'll take a hard look at hide glue and its characteristics, veneers and their preparation and usage, and the hammering technique for laying them down. We'll focus on a few simple projects such as a fielded drawer front and work our way up to the pie-pattern of a demilune top. So at least for a few minutes, set aside your notions of a veneer bag, plastic resin glue, and all that tape. Instead, look at a  time-tested method for laying down a bordered tabletop one piece of veneer at a time, without the added suspense of unwanted surprises in the press.
Grain Graphics
Presenter: Tom McLaughlin 
Learn how wood grain can be used to enhance the visual impact of your projects in this presentation by Tom McLaughlin. Tom will discuss various ways of handling and thinking about wood grain that will bring your work to a new level. Photo examples and technique demonstrations will be included while the class explores creative directions using solid wood, veneers, and several finish treatments.
Fixing Finishing Mistakes
Presenter: Teri Masaschi 
Amateurs may think that they are the only ones who mess things up, but the dirty little secret is that professionals make just as many mistakes. The huge difference is how each group moves forward. Learn tips from a professional finisher on how to fix blotching, swirl marks from sanding, glue fingerprints that show up after stain, bad fill jobs, drips, sags, brush strokes in the first topcoats, bumps, lumps, and dust nibs in the last topcoat, and every other thing that can and does go wrong in the finishing room. In addition, if time allows, we'll discuss how to fix the bumps, scrapes, and scratches in the completed piece as it is transported to the living room.
Carve a Ball-and-Claw Foot
Presenter: Mary May
Even if you've never picked up a carving gouge before, you can learn to carve a traditional Philadelphia-style ball-and-claw foot with Mary May. May will demonstrate an easy-to-follow, step-by-step method for carving this popular feature, often seen on American Chippendale style chairs, desks, and high chests from the mid to late 18th century. Anybody can do it!
Kumiko 101
Presenter: Michael Pekovich 
(Friday Hands-On Workshop – SOLD OUT)
Kumiko, the traditional latticework technique typically found on Japanese sliding screens, is beginning to make its way into furniture. It's a great way to dress up doors, box tops, and frames. Mike Pekovich, inspired by the work of John Reed Fox, has been incorporating it into his recent work and has been teaching the technique to other woodworkers as well. While the result looks impressive, the steps to getting there are fairly simple. Mike has developed a set of jigs and a process that ensures success. To try your hand at kumiko yourself, stop by for a special hands-on class prior to the start of the conference.
Practical Guide to Layout
Presenter: Michael Pekovich 
While a lot of us may stress out at the thought of cutting joinery by hand, the real challenge is in the layout. You can hit your mark with a saw or chisel, but if the mark isn't in the right place, you'll be left with a headache, and a lot of work ahead of you. Mike Pekovich will cover the layout process he's developed that ensures accurate joinery with the least amount of fussing around. In addition, Mike will show you some simple aids that will help you lay out perfect joinery quickly and easily.

Pattern-Shaping
Presenter: Tim Rousseau
The addition of curves and other non-linear shapes to your furniture can make it more lively and attractive, but producing a set of identically shaped, or even closely shaped, parts can be difficult and time-consuming. However, if you rout those parts flush to a pattern, you can knock out a set of legs or aprons in no time, and they'll all be exactly the same. In this class, you'll learn about the different types of templates used in pattern routing, with an emphasis on safety, accuracy, and how to make them quickly. We'll cover how to create an accurate template from a drawing using MDF, tracing paper, and a few basic tools. Also, we'll discuss how to attach the workpiece to the template, the importance of using a starting pin in the router table, how to deal with changes in grain direction, and the correct way to begin and end the cut.

Power Carving
Presenter: Marc Spagnuolo
Power carving can be intimidating; there are no guides, fences, or stops. In this session, Marc Spagnuolo, a self-confessed non-artistic person, will show you how to break down the process into logical steps that will allow you to achieve the shapes you desire while maintaining consistency between parts. He'll demonstrate using an array of tools for bulk material removal and refinement, including an angle grinder with various cutters and burrs as well as a die grinder with several specific bits. He'll also show you how to use rasps, scrapers, and sanding to achieve a finished surface.

The Art of Modern Marquetry
Presenter: Craig Stevens
Marquetry has a long history, and Craig Stevens's work draws on many techniques developed over the centuries. But he also brings to his designs a vivid, fresh, naturalistic flair. His workshop will focus on the double-bevel method of marquetry using thick, shopsawn veneers. This highly accurate technique eliminates gaps between pieces in a composition and gives the maker maximum control of the material. Stevens will discuss and demonstrate his process, explaining the tools he uses and laying out how he selects wood for marquetry and resaws it into veneers. He'll demonstrate fretsaw and scrollsaw techniques, show how to shade with hot sand, and how to piece a composition together. He'll also explain designing for marquetry and how to incorporate marquetry into furniture projects.
Fixing Mistakes
Presenter: Bob Van Dyke
Have you ever had that sinking feeling when you realize you have put an offset tenon in the wrong place? Or you've broken off a twin tenon? How about a hinge mortise in the wrong place? Or just a badly cut dovetail? Beginners are not the only ones who make mistakes—but it is the pros who have figured out how to get out of a tight spot without having to start over. In this presentation, Connecticut Valley School of Woodworking director Bob Van Dyke will demonstrate ways to fix common mistakes, including techniques that can help you save parts that most woodworkers might discard and begin again.

Machine Cut Tenons
Presenter: Matt Wajda
Through discussion and demonstration, Matt Wajda will explore how to cut mortise-and-tenon joints using a hollow-chisel mortiser and tablesaw. Included will be a review of different types of tenons, laying out the joint, creating and using reference faces and edges, and machine execution of the joinery.
Learn from the masters!

Our 2018 event sold out.